---
Advertisement
---
CCE'S Spread Love Community Event In Kingston NY
Thursday Nov/23/2023 @ 10:00 am - 2:00 pm
Free Event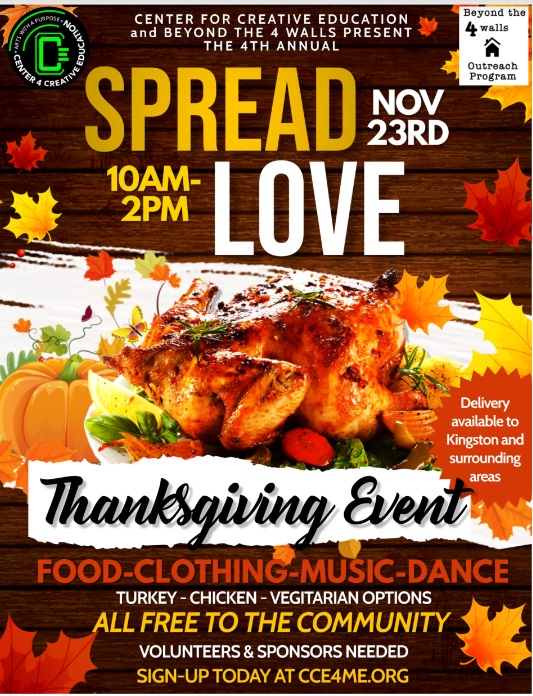 CCE's 4th Annual Spread Love Thanksgiving Event- FREE TO THE COMMUNITY
IN THE SPIRIT OF THANKSGIVING, they are inviting you to join them for CCE's 4th Annual "Spread Love" Thanksgiving Event in collaboration with Beyond the 4 Walls Outreach Program! All are welcome to partake in FREE food, clothes, resources, music, dancing…even just a friendly smile from supportive, loving people sharing in a festive celebration.
With the HELP OF THE COMMUNITY, LOCAL NONPROFITS AND BUSINESSES THEY PLAN TO FEED OVER 1500 families in and around Kingston and Ulster County!
If you or someone you know would benefit from this event, please join them on Thursday, November 24 between 10am -2pm.
*Delivery will also be available for those who can't join in person. Please fill out the attached form if you or someone you know is in need of delivery. https://form.jotform.com/223175033821145
SPREAD LOVE STILL NEEDS: *volunteers *sponsors *food delivery *donations *set-up and clean-up crews *servers *cooks, food prep and potatoes peelers (Sunday-Wednesday leading up to the event) *recycle & garbage collection
For privacy reasons Google Maps needs your permission to be loaded. For more details, please see our
Privacy Policy
.
I Accept