---
Advertisement
---
The Roosevelts at Christmas – A Virtual Presentation
Monday Nov/28/2022
Free Event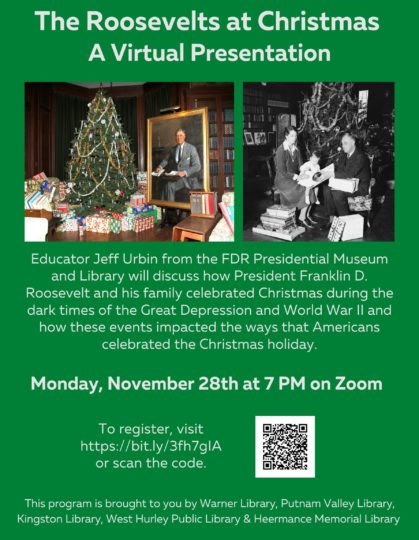 For the Roosevelts, Christmas time was truly the most wonderful time of the year. This session presents the customs and traditions followed by the Roosevelt family as they celebrated Christmas, one of their favorite holidays of the year.
In this virtual presentation, Jeff Urbin from the FDR Presidential Museum and Library will discuss the following topics: How did the Roosevelts celebrate Christmas during the dark times of the Great Depression and World War II? How did the Great Depression and World War II impact the ways that Americans celebrated the Christmas holiday? Why did the Roosevelts often celebrate Christmas at the White House rather than at Hyde Park?
Hosted on Zoom. Free and open to all.
This program is a collaboration between Warner Library, Putnam Valley Library, Kingston Library, West Hurley Public Library, and Heermance Memorial Library.
*** Please note that registration for this program will be handled by the Putnam Valley Library.