Legs Diamond,  born July 10, 1897, killed December 18, 1931 was a gangster, mobster, prohibition era bootlegger and Hudson Valley celebrity. He was said to have lived a charmed life, with more than his share of lead flying at him and in him but he always bounced back. He stood trial many times for many crimes that mostly ended in acquittals. His ability to survive multiple assassination attempts led bootlegging rival Dutch Schultz to say about him, "Ain't there nobody that can shoot this guy so he don't bounce back?"
Don't misunderstand me, this guy was not a nice guy, he was a double crossing ruthless maniac who had no qualms about killing friend, foe, bystander or witness. But for a while in the Hudson Valley, this guy was a celebrated hood.
---
Some of the bullets and trials.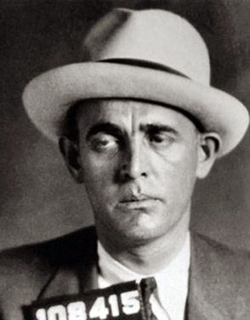 On October 24, 1924, Diamond was shot and wounded by shotgun pellets, reportedly after trying to hijack liquor trucks belonging to a rival crime syndicate.
October 16, 1927, Diamond tried to stop the murder of "Little Augie" Orgen. Diamond's brother Eddie was Orgen's bodyguard, but Diamond substituted for Eddie that day. As Orgen and Diamond were walking down a street on Manhattan's Lower East Side, three young men approached them and started shooting. Orgen was fatally wounded, and Diamond was shot twice below the heart.
October 12, 1930, Diamond was shot and wounded at the Hotel Monticello on Manhattan's West Side. Two men forced their way into Diamond's room and shot him five times. Still in his pajamas, Diamond staggered into the hallway and collapsed.
On April 21, 1931, Diamond was arrested in Catskill on assault charges for the beating of a truck driver in 1930. Two days later, he was released from the county jail on $25,000 bond.[17] Five days later, Diamond was again shot and wounded at the Aratoga Inn, a road house near Cairo. After eating in the dining room with three companions, Diamond was shot three times and collapsed by the front door. A local resident drove Diamond to a hospital in Albany, where he eventually recovered.
In August 1931, Diamond and Paul Quattrocchi went on trial for bootlegging. The same month, Diamond was convicted and sentenced to four years in state prison. In September 1931, Diamond appealed his conviction.
---
Jack "Legs" Diamond (named Legs for his dancing ability or his ability to run from trouble), ran into trouble with other gangs and bootleggers in his home turf of Manhattan, making enemies of such homicidal maniacs as Dutch Schultz. To add to this, he also stood trial for a bevy of crimes ranging from murder to kidnapping. Pressure from rival factions and from the law forced him to leave his home turf of Manhattan and in 1930 he moved up to Acra, NY in the Hudson Valley.
He set up a large scale bootlegging operation in Catskill, NY. The illegal booze that his operation produced was stored in Kingston NY at 104 Smith Ave, the site of a warehouse and the former Kingston Barrel Factory building that was home to the Kingston Barrel Corp., and an accessory garage building.
By 1930 Legs Diamond was a regular Hudson Valley celebrity. He attended exclusive events and dinners and could be found in the best area night spots and eateries. He was supplying what the people wanted, booze, and was seen as the common man winning against big government and their hated Prohibition.
He spread loads of cash around the Hudson Valley and his Catskill bootlegging operation and Kingston storage and transport facility employed hundreds of people during the height of the Great Depression. It's easy to see why he was well liked and well protected by the local community, money and booze at a time when both were in short supply and high demand. But, he still had enemies and although he may have put some distance between him and them, he was still within reach.
---
How it all ends
On December 18, 1931, Diamond's enemies finally caught up with him in Albany, NY. Diamond was staying in a rooming house on Dove Street in Albany while on trial for kidnapping in Troy. On the night of his acquittal, on December 17, Diamond, his family and friends visited a restaurant in Albany and then celebrated at the Kenmore Hotel in Albany.
At 4:30 a.m., Diamond drunkenly went back to the rooming house at 67 Dove Street in Albany and passed out on his bed. Two gunmen entered his room around an hour later. One man held Diamond down, and the other shot him three times in the back of the head.
So who ordered the hit? That's still an unanswered question. Some say rival and arch-enemy Dutch Schultz finally caught up with Legs Diamond. Other opinions point the finger at the O'Connell political machine in Albany who were trying to keep their monopoly on vice. Yet another opinion is that rival mob leaders wanted to move in on his operation.
On July 1, 1933, Alice Kenny Diamond (age 33), Diamond's widow, was found shot to death in her Brooklyn apartment. It was speculated that she was shot by Diamond's enemies to keep her quiet.
And so ended the life and career of Legs Diamond, a criminal and true Hudson Valley celebrity.
The Sojourner
Share this!