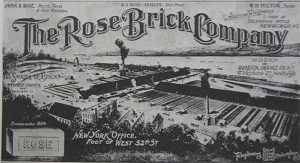 A very short distance east of Marlboro NY, along the Hudson River at Danskammer Point once stood the clay and sand empire of John C. Rose (of Esopus, NY), known as The Rose Brick Company.
In 1883, Rose purchased the land because of the rich deposits of clay along the banks of the river, an abundance of nearby sand from which to make his bricks, and a nearby river to transport his product.
Rose produced what were considered high quality bricks, all bearing the "Rose" name on their face. The business was so successful that he founded a small town near to the site which he named Roseton. It was complete with employee housing, a school, a church, a community building, and a post office which later on received its own zip code designation of 12576. The company philosophy toward employees was very different from those of other companies in those times:
"The Rose Brick Company was also known for the exceptional care it provided for its workers. The surrounding community was filled with clubrooms, reading areas, stores with lower than retail prices and stocked with the best eatables, a variety of churches and Sunday schools, fairs, annual festivals, and great living accommodations. The philosophy of the Rose Brick Company was that happy, skilled workers would be the hardest workers and the best brickmakers who took pride in creating a quality product. And they were right."
Roseton has mostly been lost to us. When the brickyards closed Central Hudson Gas & Electric Company bought the property and demolished the structures. The only remaining structure is the Our Lady of Mercy Chapel
At its peak The Rose Brick Company sold 400 million bricks per year. Most of these were shipped downriver to New York City. If you chip away at any one of a number of residential or commercial structures in NYC such as the Waldorf Astoria or Empire State Building, you will run across Rose bricks. Crushed Rose bricks were also used to cover and line walkways and paths, as was the case in Central Park
Rose bricks were also used closer to home in their Hudson Valley birthplace. I found several in an old brick pile right on my own property.
A major industry development and efficiency is credited to The Rose Brick Company in the development of a system of transporting bricks on the deck of a vessel rather than below in the hold. This allowed most vessels to carry 600,000 bricks instead of the usual 75,000.
This one is dedicated to Rose of Metro Builders Corp, who is fascinated by a brick that carries her name.
The Sojourner
Share this!