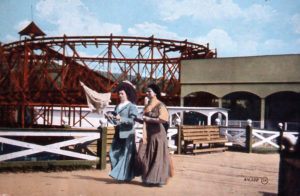 I was tweeting on an old amusement park that was once located in my hometown of The Bronx, when I recalled an interesting similar attraction that was located right here in the Hudson Valley.
Electric Park, on Kinderhook Lake, in Columbia County, NY came to mind, and with a little research it turned out to be quite a nice tidbit of niche history. Electric Park was built by the Albany & Hudson Railroad Company and opened in 1901. Ok, a railroad and trolly company in the amusement park business? Yes, quite the common event back in those days. Trolly and railroad companies made the bulk of their profits on weekdays but weekends were financial bummers. To increase ridership, it was not uncommon back then for well-heeled companies to build amusement parks and cash in on the transporting of crowds. The Albany & Hudson Railroad offered a round trip trolly ride from the train station, with park admission and a free show, for forty cents per person.
Electric Park became quite the destination and was billed as the largest amusement park between NYC and Montreal. In a short time crowds of 10,000 people on a weekend day were common. The attractions included boating, swimming in the lake, a Chute slide, amusement rides including two Ferris wheels, a roller coaster built over the lake, and a large carousel. There were also picnic areas, a 5 cent power boat ride around the lake, garden-lined strolling paths, games of chance, vaudeville shows, concerts, a dance hall, shooting gallery, bowling ally, a 400 seat theater, tent platforms for extended stays, and the usual array of food. Almost everything except for cocktails.
You see, Electric Park was a family park and therefore "Dry" (hey, that means no booze), but part of Kinderhook Lake was "Wet". To remedy the situation an enterprising fellow by the name of Adam Shaver purchased a small island in the "wet" part of the lake and built a two story building with a dock. Gentlemen park goers would row out to the island and lift a few in the downstairs bar to recover from the day's excitement. It is said that the upstairs held rooms where gentlemen who overindulged in the cure could rest and recover.
As these things go, Electric Park had a rather short life. When WW1 broke out Electric Park was closed. The actual drop dead date is not clear. The park tried to make a few comebacks but by 1921 it was officially all over and on its way to becoming another Hudson Valley legend. What remains of the park today? Kinderhook Lake of course,  a few houses that are now private residences, and a street named Electric Park.
Share this!